QR code is a universal tool for promoting your business, providing quick access and storage of large amounts of information.
We have already talked about how important it is to place a QR code in the right place to be noticed. You can read about this here. In this article, we will guide you about the importance of QR code design.
The success of many advertising and marketing campaigns depends on their visuals. When creating a QR code, its appearance is also an important point that affects the number of scans and transitions to the resource you specified.
But how do you ensure that your QR code in ads is effective and performs the necessary functions?
Design your QR code wisely
Everyone is already accustomed to the usual black and white codes. It is difficult to surprise somebody with such codes. A colored QR code does a better job of grabbing attention.
In our QR code generator , you can make not only a QR code for a link but also a QR code for a PDF file, picture, restaurant menu, to collect reviews, and more. You can try different color combinations, add frames, logos, or a call to action. Such elements will make your code recognizable and set it apart from many others.
But don't overdo it with QR coloring. Firstly, if you make the code too bright and contrasting, then it will repel rather than attract users. Second, remember that the QR code must have been readable. And some crawling apps or sites are not capable of recognizing complex designs.
Also, too pale code will simply be impossible to scan due to its color scheme. Even if you are a fan of muted pale shades, we do not recommend using them when creating a QR code.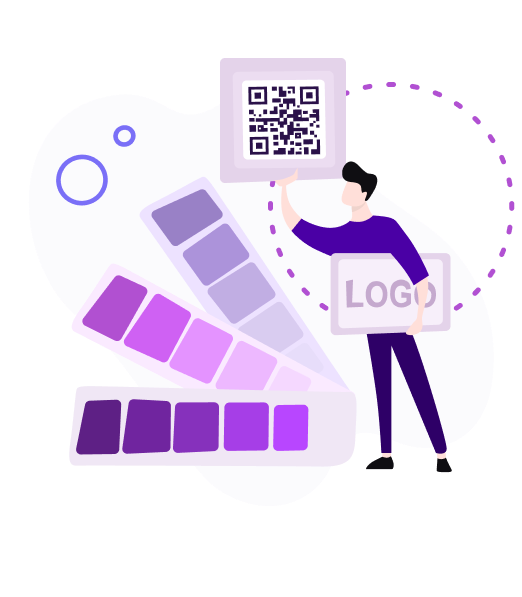 To protect yourself from unnecessary stress, before you print the QR code, scan it using different applications and devices, send it to different people, and make a trial version of the print in several copies. Make sure that more than one QR scanner app recognizes it without problems, but several.
Maintain a square shape
The square shape of the QR code has been specially designed to minimize scanning time and speed up content loading. Even though there are other forms of QR codes, it is the square one that is the most popular.
Think ahead and check carefully
Although our QR codes are dynamic, having printed a large number of codes, and only then, having found the moments that do not suit you, it will not always be possible to correct them. For example, make sure the QR code displays the domain you want. Otherwise, you will have to reprint a batch of codes, for those already corrected.
But you can solve the problem with a QR code for a link, replacing a picture or a file yourself in your personal account.
Make your
QR code design
recognizable
If you have created your own business, then you have probably already worked out the design of your company. Everyone knows very well that color plays an important role in this matter.
Create a QR code in the colors you use in your brand. Work on the logo and font. Thus, you will attract more attention, because your QR code will be recognized. Or, if you need to create several codes, then they can correspond to the design, for example, of your product lines.
Analyze and make changes
In your personal account, you can view scanning statistics for all QR codes. By creating several different templates, you can see which codes are more attractive to users, which QR code design solutions are winning for you.
In addition, our QR codes are dynamic, that is, you can edit their contents without changing the code.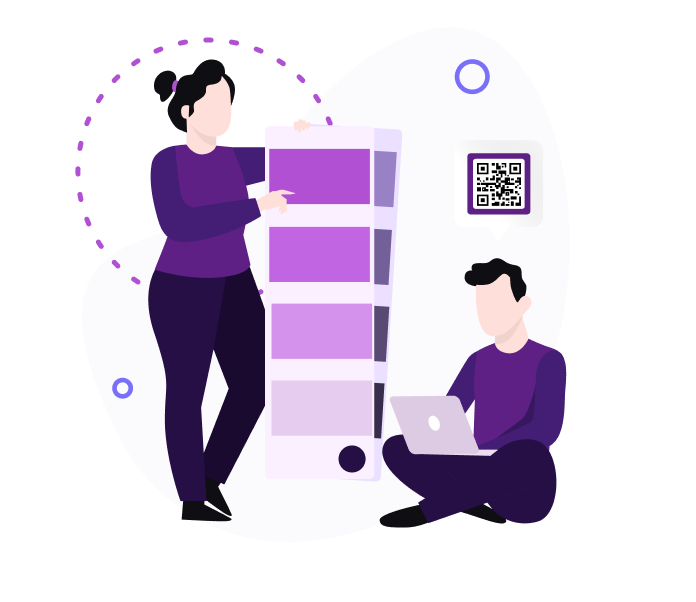 Don't forget about indentation
To keep your code readable, no matter what format you use it, leave a little white space between the code and other stuff. This will keep the edges clear and the program will be able to scan the code.
Make the QR code available
If you place the QR code in places that are difficult to scan, then it will be of little use. Watch for this when printing.
Keep an eye on the quality of your images
And this applies not only to QR code print. If the image is fuzzy and blurry, then this increases the likelihood of error. High image quality guarantees the best coverage.