The era of online meetings. Zoom is a solution against a pandemic.
Now everyone is trying to simplify their life, save time and spend it with benefit. Therefore, there is a process of introducing different solutions in all spheres of life that contribute to comfort and improve both work and everyday life. And when we faced with a pandemic, Zoom became a cool solution for many.
Zoom is used not only in business, but also in education, entertainment and personal appointments. Zoom is one of the most popular online meeting apps because it's easy to apply. You just need to schedule an event and share the link with workers, colleagues, etc. In addition, for each scheduled event in the Zoom, you can create Zoom QR code.
Scanning the QR code Zoom and connecting to the meeting only takes a couple of minutes. If you have not tried to create QR code for Zoom meeting yet, we advise to do it now and you no longer want to share simple links to Zoom meetings. How to generate QR code for Zoom meeting and how to join Zoom meeting using QR code, read below.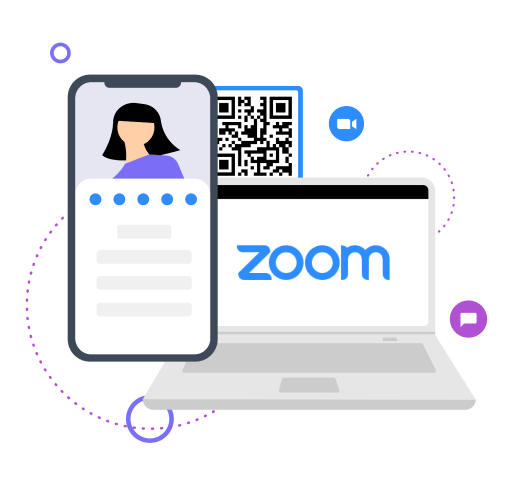 Why is it convenient to use QR code Zoom meeting?
We are confident that QR codes can be found on almost all products and for all applications. Zoom was no exception in this case. And to make it easier to use the Zoom, we suggest generating a QR code and making sure that this tool is cool. Now there are many online services where everyone can generate free Zoom QR code. One of such services is the website ME-QR.
QR code for Zoom meeting is easily generated. Zoom conference participants just need to scan a code and they will automatically join the Zoom gathering. Isn't it suitable?
Scanning the QR code is much faster than manually entering the conference ID and access code. We are confident that the Zoom link QR code saves time and attempts.

With a wide range of code generator functions, you can customize your QR code Zoom meeting. For example, add a logo, picture, frame, change color. This will add features and enhance the visual perception

QR code Zoom meeting helps in structuring the work. For example, an organizer can schedule different events for different groups of people and generate QR code for Zoom meetings that are completely different for them.
Furthermore, it doesn't matter if you are a business owner, teacher, or a simple user, because the QR code Zoom will become an affordable solution for everyone!