QR Сode for Snapchat
In the era of rapid digital communication, QR codes have gained significant popularity as efficient tools for sharing information and connecting with others. In the realm of social media, Snapchat has embraced QR codes to simplify user interactions and foster seamless engagement.

QR Code for Snapchat — What is it?
A Snapchat QR code, also known as a Snapcode, is a unique and scannable QR code linked to a user's Snapchat profile. When someone scans the code using their Snapchat camera, it instantly allows them to connect with the profile, eliminating the need for manual searches and friend requests.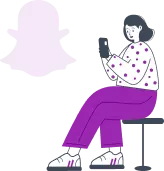 Advantages of Using QR Codes on Snapchat
Snapchat QR codes offer several advantages, such as:
Swift Profile Connections:

Simplifying the process for users to add friends or follow public profiles.

Seamless Content Sharing:

Sharing specific content, such as snaps, stories, or even AR Lenses, by scanning dedicated QR codes.

Enhanced User Experience:

Enabling interactive experiences and engagement with augmented reality (AR) through Snapcodes.

Snapchat QR codes provide a powerful and multifaceted tool for enhancing user interactions and content sharing on the platform.
How to Create Snapchat QR Codes with ME-QR?
With ME-QR, generating Snapchat QR codes is effortless. Follow these steps:
1

Access the ME-QR website and select "Snapchat QR code" as the desired type.

2

Provide the link to your Snapchat profile or a specific content page to associate with the QR code.

3

Customize the QR code's appearance to match your preferences and brand.

4

Create your unique design and click "Download QR Code" to save the customized Snapchat QR code.
Creative Examples of Usage
Snapchat QR codes offer versatile applications:

Personal Connections:
Share your Snapcode with friends and family to expand your network.

Business Promotion:
Integrate Snapcodes into marketing materials to drive traffic to your Snapchat account and engage with your brand.

Event Interaction:
Implement Snapcodes at events to unlock exclusive content or AR experiences for attendees.
Generate QR Codes for Snapchat with ME-QR
ME-QR stands out as an excellent choice for Snapchat QR code generation due to its unique advantages:
Free QR code creation:

Access ME-QR's services without any cost.

Multi-User Account Access:

Collaborate with team members to manage and generate QR codes efficiently.

Trackable QR codes:

Monitor QR code scans and gather valuable insights into user engagement.
Incorporating QR codes into your Snapchat strategy can revolutionize your social media interactions and elevate your brand presence. Embrace ME-QR as your go-to QR code generator, and unlock the potential of Snapchat QR codes to enrich your connections, captivate your audience, and revolutionize your digital engagement. Embrace ME-QR and take your Snapchat experience to new heights!