QR code for YouTube
In the ever-evolving digital landscape, QR codes have become a pivotal tool for seamless connections and enhanced user experiences. YouTube, as one of the world's leading video platforms, has fully embraced the magic of QR codes.

Explore New Opportunities with a YouTube QR code Generator
A YouTube QR code generator unlocks a world of potential for content creators and marketers. These codes offer an efficient and engaging way to connect viewers with YouTube channels, videos, and music, taking content promotion to the next level.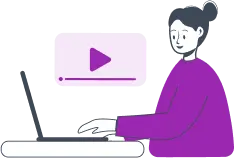 Benefits of QR Codes for YouTube
YouTube QR codes bring a host of benefits:
Make a QR code for YouTube video:

Allow users to seamlessly watch videos by scanning QR codes on promotional materials.

QR code generator for YouTube channel:

Encourage viewers to subscribe to channels directly through QR codes.

YouTube Music QR code:

Generate QR codes for music tracks, making it effortless for users to explore new tunes.
Create QR Code for YouTube Video with ME-QR
Crafting QR codes for YouTube videos is effortless with ME-QR. Follow these steps to unleash the power of your content:
1

Enter the ME-QR portal and choose the "YouTube QR code" type.

2

Provide the relevant link to your YouTube channel or video to associate it with the QR code.

3

Customize the QR code design to resonate with your brand or campaign.

4

Download your newly-crafted YouTube QR code and share it across various platforms.
Examples of Usage: Unveiling the Potential of YouTube QR Codes
YouTube QR codes have a wide array of applications:

Marketing campaigns:
Embed QR codes on promotional materials to drive traffic to specific YouTube videos or channels.

Event engagement:
Utilize QR codes at events to share exclusive content or access live streams.

Music discovery:
Share QR codes for music tracks, making it easy for audiences to explore your musical offerings.
Generate YouTube QR codes with ME-QR
ME-QR reigns as the ultimate QR code generator for YouTube, offering these unique advantages:
Dynamic QR codes:

Ensure flexibility by enabling real-time content updates for your QR codes.

Bulk QR code creation:

Save time by generating multiple codes in one go, streamlining your marketing efforts.

QR codes with design:

Customize your QR codes with logos, colors, and brand elements for a professional look.
Embrace the potential of YouTube QR codes and open up new avenues for content promotion and engagement. With ME-QR as your trusted QR code generator, the possibilities are boundless. Join the enchantment and experience the seamless brilliance of YouTube QR codes, capturing the hearts of viewers and maximizing your online presence. Unleash the magic with ME-QR and craft your YouTube QR codes with ease, making your videos and channel shine in the digital realm.