YouTube is one of the most popular sites in the world. Every day millions of people watch videos on YouTube, comment on them, add new files and share them with friends. On YouTube, you can find much useful and interesting information. Nowadays YouTube is the platform, which can help increase the popularity of a company, product, or person.
So, why is using QR-code for YouTube video or QR-code for YouTube channel it's a good idea?
Firstly, you can upload several videos into one code, which is handy for your advertising campaign. You can put your QR-code on websites, printed advertisements, advertising cards, or just share it on different social networks. And code QR YouTube makes the video searching process either and quicker for users. All that they need to do is scan the code. Besides, you can include your YouTube link to QR-code or the links on the other social networks.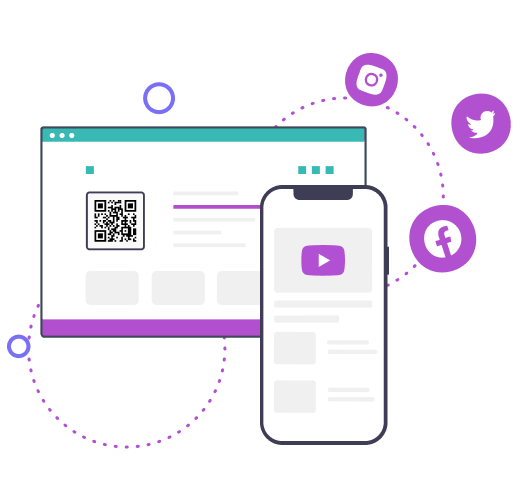 What can you display on QR-code?
With the help of our YouTube QR-code generator, you can display such information as your company name, a short description of your business, link on your website or landing page.
Why do you need a QR-code YouTube link?
QR-code for YouTube video is perfect in such cases as advertising cards, a portfolio or a resume, brochure. It is convenient for users because they don't need to look for different links to find your video.
Video with QR-code is useful for people, who want to increase their YouTube channel popularity.
YouTube video QR-code generator allows you to create a unique QR-code. For this purpose, you can use an unusual color scheme (code with a gradient, color, with multi-colored elements). Whether you are using QR code videos in print or digital formats, they can be customized exactly as needed.