QR Code Generator Email
QR Code Solutions for Email Communication
Traditional methods of sharing email addresses or sending emails can sometimes be cumbersome and time-consuming. This is where QR codes come in. By leveraging the power of QR codes, email communication can be enhanced, simplified, and made more efficient. Let's explore how QR codes can revolutionize the way we interact with email.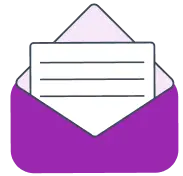 How QR codes can enhance email communication
QR codes provide a convenient and instant way to share email addresses or open pre-composed emails. Instead of manually typing or copying email addresses, recipients can simply scan a QR code to access the desired email address or open a pre-drafted email with a single scan. This saves time, reduces errors, and enhances the overall user experience.
Benefits of Using a QR Code Generator for Email
Using a reliable QR code generator specifically designed for email offers the following benefits:
seamless and user-friendly experience for both sender and recipient;

customization options to personalize the design and branding of QR codes;

ability to align QR codes with unique style and preferences;

analytics and tracking features for gaining insights into performance and engagement of email QR codes.
How It Works
Using a QR code for email is remarkably simple and straightforward. Here's a step-by-step guide to help you get started:
1

Select the Email QR Code type.

2

Enter the email address and the subject of the email. Input the desired email address and subject line for the recipient to use once they scan the QR code. Additionally, you can leave the Text field empty or enter a text template to provide further instructions or a pre-filled message.

3

Customize & Download QR Code. Customize the appearance of your QR code by selecting colors, shapes, and adding your logo or branding elements. Once you're satisfied with the design, simply click on the Download QR Code button to save it to your device.
By following these simple steps, you can create a unique QR code with ME-QR for your email that reflects your brand identity and effectively engages your recipients.
Why Choose ME-QR for QR Code Services?
We offer a range of exceptional features and benefits that set us apart from the competition. Here's why you should choose ME-QR:
Free QR code creation:

generate QR codes without any cost.

Different QR code types:

choose from a variety of QR code types, including email, URL, and text.

Dynamic QR codes:

edit and modify QR codes.

Customization options:

personalize QR code appearance with colors, shapes, and branding elements.

QR code analytics:

gain valuable insights into scan rates, location data, and device types.

Expertise and experience:

benefit from our QR code industry experience and dedicated team.
When you choose ME-QR, you're not only gaining access to a robust QR code generator, but also benefiting from our commitment to excellence and innovation. Experience the difference with ME-QR and unlock the full potential of QR codes for your email communication needs.