Advantages of social media QR code
QR codes are no longer connected with encrypted websites or simply codes on any product that you can scan and get the information you need. Thanks to the user's desire for convenience, it became possible to use QR codes anywhere. And it really makes it easier for users to stay and communicate on the Internet.
QR codes are an excellent option if you like to grow your social media presence. And to prove the effectiveness of codes for social networks, we will give several arguments.
• Scanning social media codes can lead users to various options. For example, a user can send a message, like the page, and so on. Moreover, the social media QR code generator on our website provides users with other wide functionality.
• You can generate a QR code for all your social networks, for example, QR code on twitter, facebook, messengers, for example, whatsapp. In addition, you can create QR code for a specific post in social media.
And we will tell you about the advantages of QR twitter and how to make QR code for twitter further.
Twitter QR code: main information
Twitter is a well-known worldwide social network and the ability to create QR code on twitter has become an effective solution for all users. With the help of a QR twitter, you can reach of many people, communicate with them and get feedback. For some, this can simplify communication and exchange of information, but for others it will become a cool tool for doing business.
How can you use QR code on twitter?
For more comfort and time saving with our code generator, you can create the code and apply it as follows.
For example:
• You can generate a QR code that, when scanned, directs the user directly to twitter profile. This method allows you to keep in touch with subscribers.
• Furthermore, you can create QR code to post a definite tweet. The code redirects the user to share the tweet. As an addition, you can append here a URL link, hashtags, etc. Also, how to make QR code text in twitter will not be difficult, because you'll search out this option on our service. The purpose of this way of using twitter QR code is to keep contact with the audience.
QR code for a tweet will make it easier for the audience to share it. After all, it will be enough for users just to scan it, and not to type and publish yourself. And the code for the profile can serve as one of the ways to increase subscribers.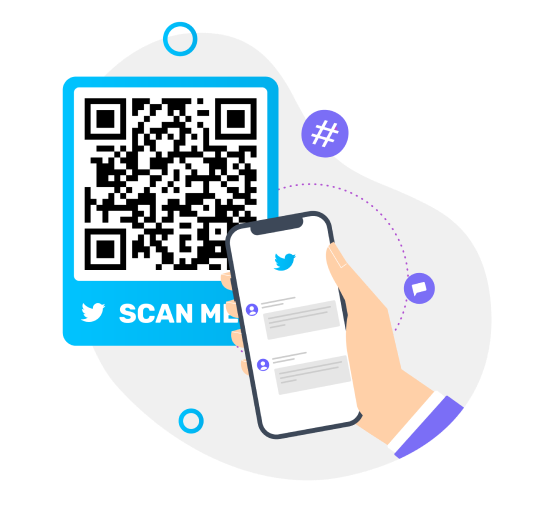 How to make QR code messages in twitter?
Scanning a twitter QR code can direct users to more than just a single post or twitter profile. You can besides make a code, by scanning which, the user goes to the messenger and starts a conversation. This option is available on this service.
How to make twitter QR code: a couple of tips
First of all, decide what you are creating the code for: for a twitter profile or for posting a tweet.
Enter the URL to your username to generate the code for your twitter profile. And in the second case - the URL to the tweet.

Do not forget that you can choose the design for your QR code. If you are the owner of a brand or company, you can add a logo for better visualization of the code or create it according to your own design.

Then just generate the twitter QR code.
After all these steps, you need to save the code, print it or use it in a format convenient for you.
This code has no expiration date, it will work until you change it yourself.