QR code for Twitter
In the dynamic world of social media, QR codes have found a significant place, and Twitter is no exception. Twitter QR codes offer a seamless and efficient way to connect with profiles, tweets, and even log in to accounts.
What is a Twitter QR Code Generator?
A Twitter QR code generator is a user-friendly tool that simplifies the process of creating QR codes specifically designed for Twitter. These codes can be linked to Twitter profiles, tweets, or even login credentials, enhancing user experiences and interactions on the platform.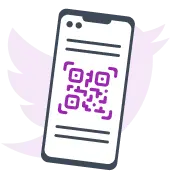 Pros of Using Twitter Scan Codes
Twitter QR codes boast a myriad of advantages:
Swift Profile Connections:

Effortlessly follow Twitter profiles with a single scan, making networking seamless.

Seamless Content Sharing:

Share specific tweets or links through dedicated QR codes, allowing instant access to valuable content.

Enhanced event engagement:

Utilize QR codes during conferences or events to provide real-time information and foster interaction.
Make Your QR Codes for Twitter with ME-QR
Creating QR codes for Twitter is a breeze with ME-QR. Follow these steps to weave your Twitter QR code magic:
1

Access the ME-QR website and select the "Twitter QR code" type.

2

Enter the relevant Twitter profile link or tweet URL to associate with the QR code.

3

Customize the QR code's design, adding your unique touch for brand consistency.

4

With a single click, download your newly crafted Twitter QR code, ready to captivate your audience.
How to Use? Examples of Twitter QR Code Usage
Twitter QR codes have versatile applications:

Login Twitter with QR code:
utilize QR codes for hassle-free login to your Twitter account, saving time and effort.

Share Twitter profile with QR code:
Include a QR code on business cards or promotional materials to boost your Twitter following.

Share Tweets and Messages:
Embed QR codes in marketing campaigns to allow instant access to tweets and personalized messages.
Create QR Code for Twitter with ME-QR
ME-QR stands out as the ultimate choice for generating Twitter QR codes, offering these remarkable advantages:
Free QR code creation:

Experience the magic of ME-QR's cost-free service, empowering you with limitless creativity.

Multi-User Account Access:

Collaborate and manage QR codes efficiently with your team, making your efforts seamless.

Trackable QR codes:

Unravel the secrets of performance with ME-QR's analytics, gaining valuable insights for improved campaigns.
Unleash the potential of Twitter QR codes and elevate your social media game with ME-QR. Empower your connections, captivate your audience, and embark on a journey of social media magic. Join the enchantment with ME-QR and experience the seamless brilliance of Twitter QR codes that will leave your followers spellbound. Embrace ME-QR and craft your Twitter QR codes with ease, as your gateway to an extraordinary Twitter experience.